Membership
Warranty
Payment
💰 Get $5 OFF for first purchase & earn points for every purchase with your account login.
🎁  Get Rewards with Your Points & early access to sales and new products before the rush.

● 1-year Warranty & 30-day Exchange/Refund/Return Guarantee 

● Technical Support via email, live chat & phone call (806)269 0498.
Join JGmaker User Group to get tips from employees and community.


Secured checkout with PayPal, credit cards and Shop Pay, pay in full or in 4 installments (interest-free).
Note:
* G6 is now available in beta, orders for G6 will be delivered from China. The parcel will be delivered in around 10 days which may result in customs duty, customers should pay for the customs tax if there's any.
* Customers of G6 Beta are eligible to receive exclusive technical follow-up from JGmaker technical team.
* Please understand that orders for G6 Beta can not be returned.
| | | |
| --- | --- | --- |
| | | |
| X/Y Resolution | 3840*2400 (4K) | 2560*1600 (2K) |
| Build Volume | 192*120*260mm (8.9-inch) | 210*130*240mm (10.1-inch) |
| Printing Speed | 60mm/s | 20mm/s |
| Z-axis Resolution | 25μm | 1.25μm |
| Curing Process | LCD curing only | Curing & Post-curing integrated |
| Supported File | STL, CTB | STL, cbddlp |
| Build Platform | Reticulate perforation platform | Standard |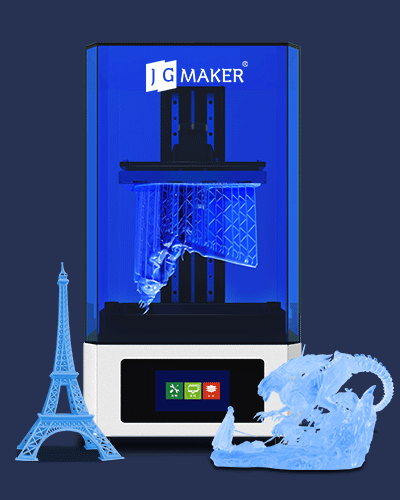 Technical Specifications
● Printing Technology: LCD-based Curing
● Forming Size: 192*120*260mm
● XY DPI: 3840*2400 (4K)
● Z-axis Resolution: 25μm
● Printing Speed: 60mm/h
● Supported Resin: 405nm photosensitive resin
● Light Source: UV integrated light (405nm wavelength)
● Supported OS:Windows7/Windows8/ Windows10 (64 bit)
● Rated Power: 140W
● Build Platform: Reticulate perforation platform
● Product Dimension: 280*248*510mm
● Product Net Weight: 11.5kg
● Shipping Dimension:365*340*605mm
● Shipping Weight: 15kg
● Supported File Types: STL、CTB
● Control Panel: 4.3"touch screen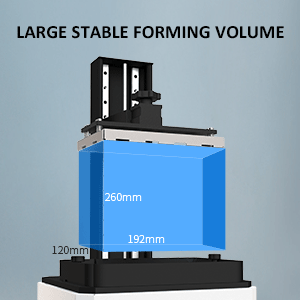 Larger Curing Volume up to 192*120*260mm inspires your imagination for larger curing possibility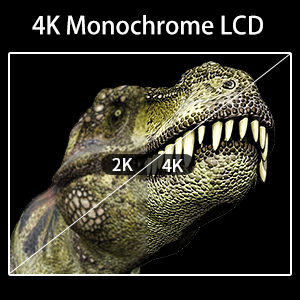 4k Monochrome LCD screen requires shorter layer exposure time with higher printing speed, ensures higher precision up to 0.05mm, delivers visible details.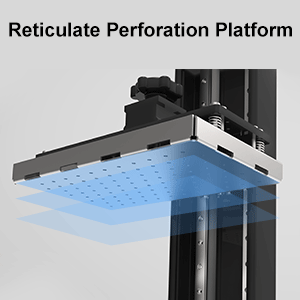 Resin flowing through the reticulate perforation makes curing faster and easier for model adhesion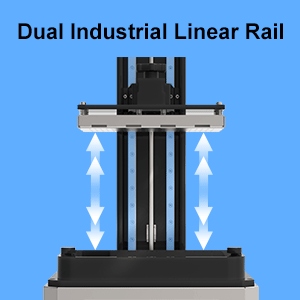 Linear Rail is built with industrial grade parts to deliver smoother performance with less friction and higher precision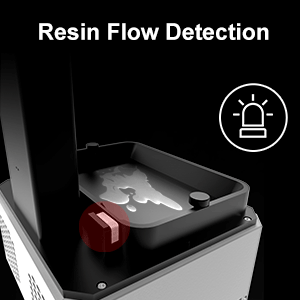 Featured with a smart sensor for real-time resin flow detection, reminds you of resin shortage and allows you a quick change out without spoiling the print for continued printing.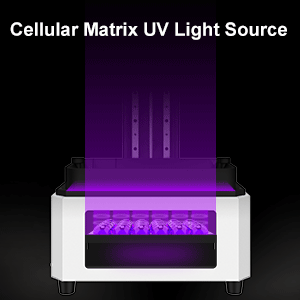 High quality quartz lamp bead and matrix design for uniform UV light energy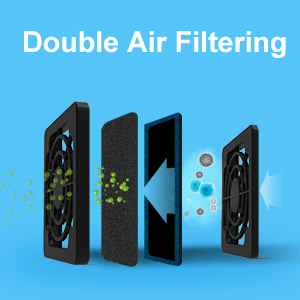 Dual air filters equipped, with activated carbon gauzes to filter out mote all-round.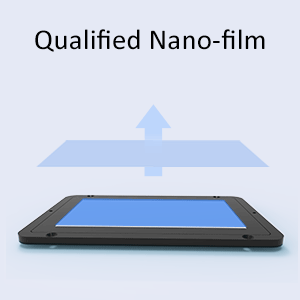 Nano-film with higher transmittance shorten reaction time to promote printing precision effectively.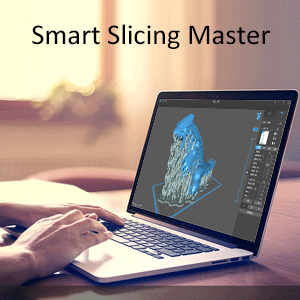 Functional slicing enables smart support settings for whom is unfamiliar with print settings.